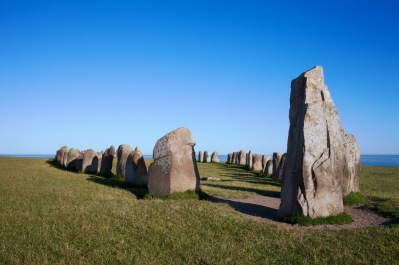 Get up close with history
We'll start at Malmö Central Station and continue towards Ystad. Ystad is a picturesque town with half timbered houses and cosy cafés. On a guided tour of Ystad we will hear about the town's history and visit The Abbey of Ystad. We will also discover Inspector Wallander's Ystad. After enjoying lunch at the oldest hotel in Sweden, we visit Ale's Stones, a monument which is located on the ridge above the fishing village of Kåseberga. We conclude the tour with a Swedish coffee-break in the fantastic atmosphere of Kåseberga close to the sea. After an amazing day with the salt sea breeze in our hair we will conclude the journey at Malmö Central Station.

Please download PDF below for more information and booking details.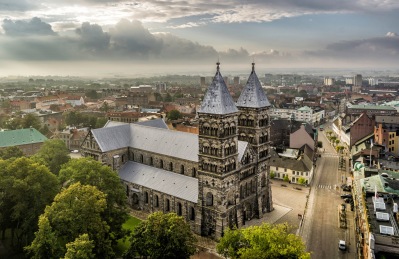 We'll start at Malmö Central Station and continue towards Lund. The first stop is Lund Cathedral. Our bus journey begins, heading to Kulturens Östarp. At the ridge of Romeleåsen we'll encounter a beautiful castle. At Kulturen's Östarp you can experience an agricultural setting from the first half of the nineteenth century, with buildings, animals, and a garden in an old cultural landscape. At Östarp's Inn we are served a lunch of genuine Scanian food. After a guided tour we will have a short walk in the enchantingly beautiful garden. Then the bus will take us to Uppåkra, Scandinavia's largest and most find-rich Iron Age settlement. There we will have a Swedish coffee-break and a guided tour.

Please download PDF below for more information and booking details.
Malmöhus Castle and Malmö Museums
The castle is the oldest surviving Renaissance castle in the Nordic region, houses Malmö museums with an aquarium and exhibitions dealing with history, technology, shipping, nature and art.
Open everyday: 10:00 – 17:00; Guided tour in English at 15:00 on Wednesday – Sunday
Fee: Adults 40 kr, 0-19 yrs free. The ticket is valid for all the Museums in that area
Address: Malmöhusvägen 6

Västra hamnen (The Western Harbour) with Turning Torso
Architect Santiago Calatrava´s Turning Torso is part of the sustainable Västra Hamnen (Western Harbour) with interesting architecture and nice beaches and bathing places, as well as a skateboarding park.
Address Turning Torso: Lilla Varvsgatan 14
www.turningtorso.se

S:t Petri Church
The oldest building in Malmö with foundations from the early 1300.
Address: Göran Olsgatan 4

Moderna Museet Malmö
Here you can admire modern and contemporary works of art exhibited in Malmö´s old electricity plant.
Exhibitions: KOBRO&STRZEMINSKI 10/3 – 2/9 2018 (New Art In Turbulent Times)
Written in Light – Early photography 25/5 – 13/9 2018
Address: Ola Billgrens plats 2-4
www.modernamuseet.se

Malmö Konsthall
A mix of current experiments and classic art. Has one of Europe´s largest exhibition halls for contemporary art.
Address: Sankt Johannesgatan 7
www.konsthall.malmo.se

Form/design Center
Form/design center is an exhibition venue and sales outlet in Hedmanska garden by Lilla Torg.
The best of Scandinavian design and local handcrafts produced in a small scale.
Address: Lilla Torg 9
www.formdesigncenter.com

Kallbadhuset and the beach of Ribersborg
Ribersborgs open air baths from 1898 is a popular destination for both swimmers and café guests. You can enjoy a wood-fired sauna and nude bathing in the sea all year round, due to its separate women´s and men´s sections
Address: Limhamnsvägen, Brygga 1
www.ribersborgskallbadhus.se

Malmö Folkets Park
The peoples park, where you find the City´s best clubscene, a cultural centre, a dance venue, a playground, a terrarium etc.and of course different places to have food.
Address: Norra Parkgatan 2A
www.malmofolketspark.se

Möllevångstorget
174 nations are represented in Malmö and this is evident in Möllevångstorget and the neighbourhoods surrounding it, in the restaurants, food shops etc. Möllevångstorget is close to Folkets Park.
Address: Möllevångstorget

Lilla torg
A place for people to meet over coffee, a drink or dinner. Many people meet there in the evening, due to the fact that many of Malmo´s most popular nightclubs are nearby.
Address: Lilla torg

Different ways to explore Malmö
By foot
You have to register for a tour on line. The starting and ending location for all tours will be the Charles X Gustav of Sweden Statue on Stortorget. The walk will be 4,5 km.
You pay after the tour what you think is appropriate. All tours are held in English.
www.malmowalkingtours.com

By bike
You can either rent a bike and make your own discoveries or join a city Tour (2 – 2,5 hours).
You can contact by telephone: +46 (0)40 611 64 54, or by mail: info@malmobiketours.se ,if you want to join a group or info@travelshop.se if you want to rent a bike.
www.malmobiketours.se
You can download free audio guide from: http://malmo-audio-guide.se

By boat
50 minutes boatsightseeing in Malmö. You travel along the canals under the bridges. The tour is guided in English, Spanish and German is available on text on separate flyer. There is a cafeteria at the departure and you are welcome to put together our own picnic basket from the café´s menu to bring on the sightseeing tour.
Departs from Norra Vallgatan opposite the Central Station
Price from 150kr
Children 6 – 15yrs: Half price
Children 0 – 5 yrs: Free of charge
You can book your ticket on line, but tickets are also available at the departure point.
www.stromma.se

If you want to know more about things you can do in Malmö, please visit www.malmotown.com and choose your preferred language.
Places to visit outside Malmö

Lund

Botanical Gardens
A lovely green oasis. It is a place for both inquiring minds and recreation seekers.
The university garden has existed since 1690. Today here is over 7000 species grown on 20 acres in the middle of Lund. Visit the gardens, greenhouses, shop and café.
Open hours: The Botanical Garden is open for visitors at 06:00 – 21:30, free admission
The Tropical Greenhouses are open for visitors: Monday-Sunday at 11:00, free admission
Transportation: The closest stop is "Sölvegatan". Take bus number 1 from Lund central station.
Address: Östra Vallgatan 20
Phone: +46 46-222 73 20, Email: botan@botan.lu.se
www.botan.lu.se

Kulturen
One of the world´s first open- air museums covers two blocks in the middle of Lund. Here you can experience the life in the city and from the country from the middle ages up to the 1930s. Kulturen is the largest museum in Lund with around 20 exhibitions. Kulturens summer program includes several guided tours in English. (July 31st – august 3rd at 15:30 -16.00 and august 7th – august 10th at 13.00 – 13:45)
Open houres: every day 10:00 – 17:00; Kulturens café 11:30 – 16:30
Admission fees: Adults:130kr; 0 - 18 years: 0kr; Pensioners: 100kr; Students: 65kr
Address: Tegnérsplatsen, Close to the Cathedral and the Lundagård park ( 10 minute walk from Lund Central Station)
www.kulturen.com

The Cathedral of Lund
Almost 1000 years old. Every year more than 700 000 people visit the Cathedral. Lund Cathedral was consecrated in 1145 and contain many well-known artefacts and features of considerable historical interest.
Free guided tours of the Cathedral every day from mid. June and ends mid. August. Please contact the Cathedral for information regarding upcoming tours.
The Cathedral Museum displays objects dating from the 12th century to modern to modern times that have direct link to the Cathedral. A mounted exhibition illustrates the course of Cathedral history.
Open houres: Monday-Friday 08:00 – 18:00; Saturday 09:30 – 17:00; Sunday 9:30 – 18:00
Address: Kyrkogatan 5
Phone: +46 46 71 87 00 email: info@lundsdomkyrka.se www.lundsdomkyrka.se

Lunds konsthall (Art Gallery)
Every year Lunds konsthall (art gallery) unveils new regional and international exhibits by established and new artists
The exhibition june 2nd – august 26th 2018 is called Omnejd/Environs.
Open houres:Tuesday, Wednesday, Friday and Sunday 12:00 – 17:00, Thursday 12:00 – 20:00 and Saturday 10:00 – 17:00
Address: Mårtenstorget 3
Phone: +46 46 359 52 95, email: lundskonsthall@lund.se , www.lundskonsthall.se

Museum of artistic process and public art.
A unique museum with large collection of sketches and models of international and Swedish public Art. From Henri Matisse and Sonia Delaunay to the twenty-first centuries
Exhibition May 24th – August 26th: The Arcade Gallery: Siri Aurdal/Eline Mugaas.
The exhibition is a dialogue between Siri Aurdal (b.1937) and Eline Mugaas (b. 1969), focusing on Aurdal´s experimental and socially engaged sculpture, a conversation across time and space emerges around sketches, models and photographs.
Open hours: Tue – Wed 11:00 - 17:00, Thu 11:00 – 21:00, Fri 11:00 - 18:00, Sat-Sun 12:00 -17:00, Mon Closed.
Admission fee: Adult:80kr, Pensioners: 60kr
Address: Finngatan 2
Phone: +46 46 222 72 83, email: info@skissernasmuseum.lu.se , www.skissernasmuseum.se

For more information about Lund visit www.visitlund.se
Choose english in the upper right corner and press the english flag once more. Then press To do to find the ten top attractions or Eat&drink etc.
Ystad

Abbey Church in Ystad
The monastery church is part of the Franciscan monastert from 1200´s. Abbey is owned by Ystad Municipality and serves both as worship and local museum. T is a place to experience and to contemplate.
Open houres: Tue – Fri: 12.00 – 17.00; Sat – Sun 12.00 -17.00
Admission fee: Adult 50 kr, 0 – 17 years 0kr
Address: St Petri Kyrkoplan, email: klostret@ystad.se
www.klostret.ystad.se

Ystad Studios Visitor Center
A world full of inspirational film environment. Immerse yourself in the world of Wallander, have fun in Circus Imago´s arena or join a space trip. There is a café and a shop with film and cinema souveniers.
Open houres: Sun – Thu: 10 – 16, Fri closed, Sat: 10 – 16
Address : Elis Nilssons väg 14
Admission fee: Adult 130kr, 5 – 8 years 70kr
Phone: +46 709 477057, email: ysvc@ystad.se
www.ystad.se

Ystad Sweden Jazzfestival 1-5 august 2018
One of Europe´s most exiting Jazz festivals! An intermingle of international stars with the Swedish elite. It will take place on different venues in Ystad.
Tickets can be bought on line and on sight.
www.ystadsjazz.se

For more information about Ystad and Österlen please visit www.visitystadosterlen.se/en

Places to visit in Denmark
Copenhagen

Glyptoteket
Ny Carlsberg Glyptotek is run as an independent institution which receives funding from the New Carlsberg Foundation and the State.
Special Exhibitions March 14th – September 2nd 2018: Treasures from the Roman Empire
Egypt: Get a unique insight into Ancient Egypt like Ramses II, Tutankhamun and Nefertiti
The Ancient Mediterranean: Archaelogical objects tells the story of 6.000 years of extensive exchange of goods, knowledge, religious beliefs and ideologies.
French Painting: Degas, Manet, Monet, Picasso, Gaugin, Miro etc.

Open: Wed (11-18), Thu (11-22), Fri (11 – 18) and Sat (11-18)
Entrance fee: Adult 115 DKK, 18-27 y. 85 DKK 0-17y. free
Address: Ny Carlsberg Glyptotek, Dantes Plads 7, 1556 Copenhagen W
(Close to H.C. Andersens Blvd and Tivoli)
Phone: +45 33 41 81 41
www.glyptoteket.dk/en

Tivoli Garden – 175 years of Magic
Tivoli Garden opened in 1843 and is celebrating its 175 years anniversary this year.
Amusement park in Central Copenhagen. Offers rides, games, musicals ballet, and major concerts.
The biggest selection in Copenhagen of restaurants

Opening hours: 11 – 23
Entrance fee: 120 DKK
Address: Vesterbrogade 3, 1630 Copenhagen W (Close to the Grand Central Station, hovedbanegaarden) www.tivoli.dk ; www.tivoligardens.com ; www.visitcopenhagen.com

Outside Copenhagen

Louisiana (Museum of Modern Art)
Exhiitions: Gabriele Münter: May 3rd- August 8th 2018
Ed Ruscha-Very: May 17th – August 19th 2018

Open: Tue-Fri 11-22, Sat-Sun 11-18. Monday closed
Tickets: Adult 18+ DDK 125
Student DDK 110
Address: Louisiana, Gl Strandvej 13, 3050 Humlebäk www.louisiana.dk in the upper corner press EN for English.
Press VISIT US, for further information. Under directions look at rejseplanen.dk and find how to get there.
(Please note that engineering work will affect the rail network "kystbanen" and the connection to Humlebaek from Friday 29 June- Sunday 12 August.)

Bornholm
Is an island belonging to Denmark, but closer to the southern parts of Skåne, Sweden.
You can get there by train to Ystad and boat to Rönne. From Rönne you can take a bus aroud the island.
www.bornholm.info